Intensity Pro 4K and Nintendo Switch
I recently came into possession of some family home videos on VHS and 8mm tapes. To digitize them, I needed a Mac compatible capture device. One of the options I found was the Blackmagic Design Intensity Pro 4K capture card. I figured I could use its analog import for the tapes, and then try the HDMI for capturing video from a Nintendo Switch.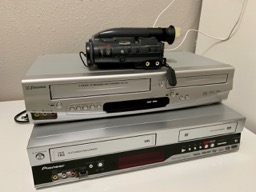 Installation of the card was easy enough, and it is able to import from a VCR/DVD recorder over S-Video.
As for HDMI, I connected the capture card HDMI input to the HDMI output from the Nintendo Switch dock. The Desktop Video Setup application displayed HDMI as the input, but did not display any signal information (e.g. resolution). Running Media Express displayed a blank screen under "Log and Capture".
Un-docking the Switch, setting the TV resolution to "480p", re-docking, and setting Media Express to use NTSC does work, although the resolution is terrible.
Connecting the HDMI output on my video card to the capture card works. The Nintendo Switch dock connects to a monitor and TV with no problems. From searching online, others have had this issue and using an HDMI splitter is suggested to solve the problem.
I first purchased an IOGEAR 4 port HDMI switch (not a splitter). The switch is unpowered, and supports 4 inputs and 1 output. I tried connecting the Nintendo Switch Dock to Input 1 and the capture card to the Output, but that had the same problem.
What I did find to work was to use a monitor/TV to "prime" the HDMI switch and Nintendo Switch with the correct resolution, then connect the Intensity Pro 4K. This allows 1080p60 capture in Media Express, and in OBS.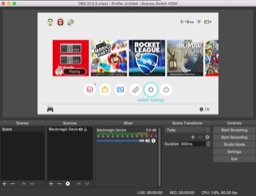 Later I ordered an HDMI splitter (one input, two outputs) from Amazon. This one had DIP switches to adjust the EDID, and it will "force" the EDID to be 1080p60 between all devices. This works perfectly, and I recommend this solution.
Best Solution
Use an HDMI Splitter, preferably one with EDID switches.
Detailed Solution for HDMI Switch
If you have an HDMI Switch instead of an HDMI Splitter, this is the comprehensive step-by-step to capture 1080p60.
Connect monitor/TV to HDMI switch OUTPUT
Switch to HDMI input on monitor/TV
Connect Nintendo Switch Dock to HDMI switch INPUT
If Nintendo doesn't show up on monitor/TV, un-dock and set the TV settings to "Automatic" and re-dock
Once Nintendo displays on monitor/TV, go to Nintendo Switch main menu and back to Nintendo Switch TV settings. Set the TV Resolution to "1080p", and RGB Range to "Full Range".
Go back to main menu on Nintendo Switch. Disconnect monitor/TV from HDMI switch OUTPUT
Connect Intensity Pro 4K to HDMI switch OUTPUT
In Desktop Video Setup, set the Video Input to "HDMI" and Audio Input to "Embedded". The main menu for Desktop Video Setup should show "1080p60 HDMI" as the Video Input.
Open Blackmagic Media Express and set the project settings to "1080p60". The Nintendo Switch should now show up at full resolution.
If you un-dock the Nintendo Switch, you will have to redo the above steps.
Alternative Fixes
Blackmagic Design could release a fix in the future that allows the Intensity Pro 4K to properly negotiate a resolution with devices like the Nintendo Switch.